In-person Circles group with Diana Safta,a highly skilled CI Circle Leader, Compassionate Inquiry Practitioner and Mentor. will run from Wednesday, September 6th – November 15th, 11.30AM to 1.30pm ET. 


Diana Safta Bio
Besides being a Compassionate Inquiry Practitioner (working intensely with this approach) and a Private Mentor, I am an active Psychologist and Psychotherapist, with a master's degree in clinical psychology. As a background, I've studied different others psychological approaches – Cognitive Behavioural Therapy, Schema Therapy, Couples Therapy, Transgenerational Therapy, Systemic Therapy, and have developed competencies through dozens of different courses, workshops, silent retreats, mindfulness, meditations and books, as I am a "learning addict".

I've started the CI program in Jan 2019, being in the first cohort and then following all the programs that CI had to offer, in order to refine my skills more and more: 3 internships, 1 mentorship, 2 mentoring internships, a clinical supervision course, the ''Suicide Prevention'' course, ''Diversity, Equity, Inclusion'' course, 2 CI Circles, and had done and still doing a lot of personal therapy as '' You are only able to meet others as deeply as you've met yourself.'' I was also grateful to be part of the team which organized an event for the CI community in Europe, in Budapest, in 2022, meeting in person many of the CI participants, coming from more than 22 countries. Participating already in 2 CI Circles – had led me to different experiences which have contributed to a deeper understanding of my old traumas, and I think the group has an important role in helping you accessing different triggers and feeling safe to share them. I think all the experience I got in the CI programs is now shared with openness, curiosity, and compassion with each person I get the chance to meet. The passion I have for the CI approach comes from experiencing it in all the possible ways and seeing it's amazing healing power!

Looking forward to connecting online via Zoom and possibly in person, in Bucharest, Romania.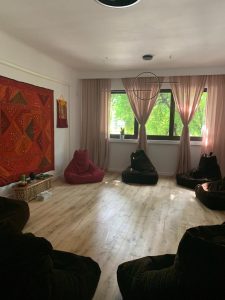 Event Information

Start date: September 6th, 2023 End date: November 15th, 2023 Address: Intrarea Nicolae Iorga nr 5, interfon 3 Time: 11.30pm to 1.30pm ET Intended numbers of students (min and maximum): 10 The weekly meetings are organized at the same address and at the same time for 10 weeks.
Fees & Registration
800 CAD per person for 10 weeks.
To convert to your local currency, click here.
Click
here
to register and make the payment.