Note: this page is for those that have completed the Compassionate Inquiry Professional Online Training. If you would like learn more about the training or apply, click here for more info.
What Is the Compassionate Inquiry Internship?
The Compassionate Inquiry

internship is offered as a year of learning and personal/professional development for individuals who have completed the Compassionate Inquiry

professional training and are currently enrolled in or have completed the Compassionate Inquiry

Mentorship Program

The internship is an opportunity to use your passion and skills to contribute to Compassionate Inquiry

It is a stand-alone experience, that may or may not lead to future association with the Compassionate Inquiry

Team of Facilitators/Mentors

The experience itself will be enriching and will depend on the intention you bring to it   
3 Primary Intentions Associated with the Internship Role:
To support the intention, vision, program, facilitators, participants, structure, evolution, and expansion of Compassionate Inquiry

Further learning to enhance your Compassionate Inquiry

skills

To integrate Compassionate Inquiry

into your professional career
To Be Eligible to Apply for the Compassionate Inquiry Internship:
You must have completed all of the course requirements for the year-long training before applying for the internship, or you will have completed them by the end of your year long training
You must simultaneously be enrolled in the Compassionate Inquiry Mentorship Program, or have completed it
Submit a reference letter and resumé
You must be currently practicing Compassionate Inquiry with your clients
You can commit to the internship for one full year
How Are Interns Selected?
Candidates will be selected based on their professional background, the recommendation of their biweekly facilitator, their Compassionate Inquiry skill level as assessed in their videos, their expressed intentions for the internship and whether we think they would be a good fit for our Compassionate Inquiry Team. The number of interns required for each cohort is dependent on the number of biweekly groups. Two interns are allotted per biweekly group.
Once a candidate is accepted for the internship, we reserve the right to remove them from the internship at any point if it seems they are not a good fit, or if the Compassionate Inquiry Code of Ethics for Practitioners is breached.
For additional information, please reach out to us at [email protected] and your email will be answered within 72-hours, during the Office working days, Monday to Friday (EST Time Zone). We appreciate your patience!
Intern Responsibilities:
Mentors with one primary facilitator and attends biweekly meetings with at least one online group throughout the year – all three levels (1.5 hours every other week)
Attends one biweekly session with other facilitators from the cohort they are interning. Rotate with one new facilitator at least once every three months to have exposure to various best practices and facilitation styles.  
Assists online participants in organizing their practice pods in each level of the training as needed, making sure that everyone is connected in dyads/triads
Sits in on triad sessions for participants in the online group twice in Level 1; once in Level 2 and 3 and provides instruction and feedback.
Helps organize dyad/triad schedule for volunteers
Relays information to the Facilitator of any challenges in the pods or dyads/triads
Reviews Case Study forms of participants in Level 2
Subs if no facilitator can attend
Provides verbal feedback to participants' demos in Level 2 and practicums in Level 3. Includes written feedback for Level 3 practicums.
Facilitates various parts of the biweekly meeting, such as the grounding, the demo, check-in, and group discussion, and provides updates to the biweekly group. 
Remuneration:
Although some remuneration is provided for some of the tasks of the intern, it is primarily a learning opportunity
Approximately $850 CAD can be earned during the internship when there are 2 interns per biweekly group
CI Interns in the year-long program can also participate in one CI Circles for free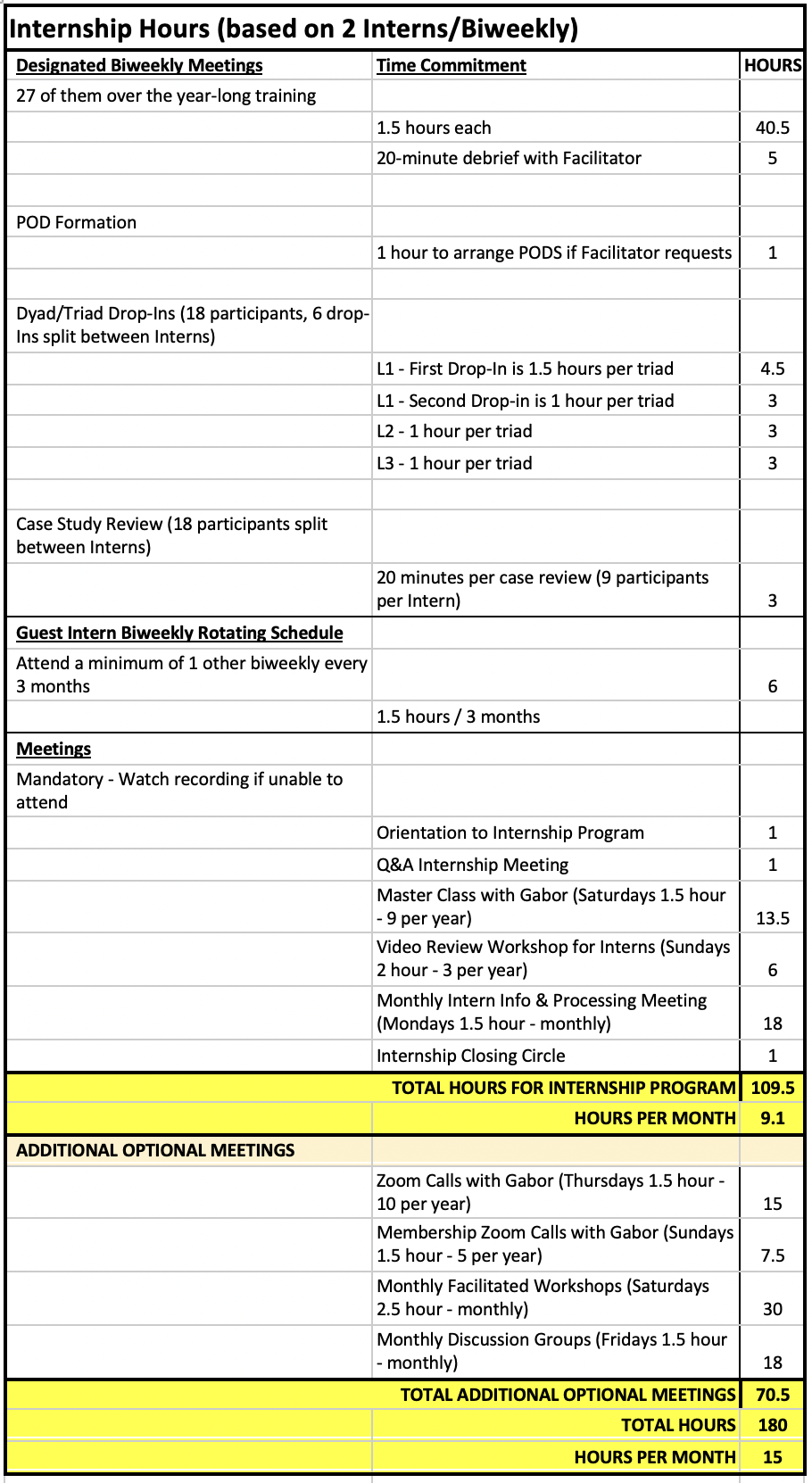 The September Cohort Internship:
Please complete the application by August 15, 2023, for the CI Internship that runs from September 18, 2023 to October 7, 2024. Candidates will be notified if they have been accepted by August 20, 2023.
Apply to become a Compassionate Inquiry Intern
Spanish Professional Training Cohort Internship:
If you are interested being an intern in an upcoming Spanish-language Professional Training Cohort, please visit this page (en Español).
Opportunities in Compassionate Inquiry
Click the button below to see all opportunities available to you after completing the Compassionate Inquiry Internship.