CI Course Participant Frequently Asked Questions
---
Before Entering the Training:
FAQ When Entering the Training
Please note, these questions are also in the Downloads section of the Intro Module's Orientation with Sat Dharam page.
1. I don't know who my online facilitator is or when my bi-weekly meeting time is?
If you don't know this, you've likely missed seeing an email. Please check your spam and all of your email address inboxes. Some of you used 2 separate emails and 1 of them may be receiving messages. If you don't receive an email letter by Sunday evening confirming your group and meeting time, please email [email protected] on Monday and she will get you set up.
2. When are we meeting for our first meeting?
You will meet at the designated group time located in your Welcome Letter, which you will receive before this Monday if you haven't already received it. Please note that the time is EST (Toronto time).
3. How do we know what time we are meeting when so many of us are from different time zones?
Emails and/or attachments that you receive from your CI Facilitator and the Compassionate Inquiry Team indicate ET (Toronto time). If you have a question about how that relates to your time zone simply type into Google "What time is it in Toronto?" You can calculate how many hours you are ahead or behind and plan accordingly.
4. What are we doing for our first zoom meeting?
The first zoom meeting is our first biweekly Facilitated Group Zoom Meeting. We'll focus on getting to know each other, orienting you to the course with some important information, and establishing your Pods. There will also be some time for Q&A.
5. Are we to have the Module 1 material completed before we meet at the first biweekly Facilitated Group Zoom Meeting? You do not need to have Module 1 completed by the first zoom meeting. After the first zoom meeting you will have two weeks to complete Module 1 and then we will review Module 1 in detail at the second biweekly Facilitated Group Zoom Meeting. You will have access to the Module 1 material for the whole year.
6. I'm feeling nervous because there doesn't seem to be anyone else available for practice sessions at the same times that I am. Feeling nervous is understandable as you look at the times that people are giving that don't align with yours, but don't be too concerned at this point. You have all been asked to indicate your availability in the Pod Discovery google doc, however, available time does not mean only time for some people. When you meet at your first zoom meeting you will discuss who is more or less flexible in their scheduling so that times that are do-able can be arranged for all.
7. I had to change a time on the Pod Discovery. Hope that isn't problem. Please do edit as you need to so that your information is current. Thanks!
8. I tried to put in my available time into the Pod Discovery but didn't know how to save it so other people could see. There is no need to "Save" as Google does it automatically.
9. What do I do after I've put my time(s) into the Pod Scheduler?
Thank you for filling out the Pod Scheduler! We will use the information you provide to create pods. When those have been established at your first zoom meeting you will be asked to contact your pod members and begin creating dyads/triads for your weekly practice sessions. Until then please familiarize yourself with the material, including PDFs, in the Orientation section if you haven't already done so. The most important thing before proceeding is to become familiar with the learning platform and the material in the Orientation section.
10. What are dyads/triads?
Dyad = 2 people who will each have a turn to be client and therapist/helper (60min practice session). Triad = 3 people who will each have a turn to be client, therapist/helper, and observer (90min practice session). We'll talk about this including your Dyad/Triad meeting structure at the first biweekly Facilitated Group Zoom Meeting, which day and time is indicated in your Welcome Letter.
11. What is a pod?
A pod is a group of about 6 people contained within the biweekly Facilitated Group. Each biweekly Facilitated Group will be made up of 2-3 pods. Triads and dyads are then formed within the pods. The pod members will become the primary people you will practice with weekly for the year.
12. Can you tell me more about the biweekly and weekly meetings?
Bi-weekly facilitated meetings are with your peers and your CI Facilitator. They occur every two weeks at the designated day and time located in your Welcome Letter. Please note the time is EST (Toronto time).
Weekly meetings – these are the small practice groups (dyads/triads) where you will be meeting with your peers to do weekly practice sessions.
13. I cannot see the PDFs for Module 1.
When you are on the first page of the learning platform you will see Compassionate Inquiry Professional Online Program. To access Module 1 content you must: 1. scroll past Introduction: Welcome To The Course and you will then see Module 1: Presence, Safety, Attunement 2. You will also see Gabor's videos but not the PDFs 3. Click on Module 1 Orientation with Sat Dharam (7min:19sec), which is just beneath Gabor's introduction to Module 1, and then you will see the PDFs with course content for Module 1 located on the right hand side of your screen
Note: to access the content (PDFs) for each module you need to click onto Sat Dharam's Orientation. Only when you have clicked onto each module's Orientation video with her do you see the PDFs.
14. Why can't I complete the Quiz or Practice Guide at the end of the module when I've left and come back to it? You need to complete all the questions in one sitting.
15. How long do we have to review each module?
Two weeks. Each module begins every second Monday, but you can come back to the module any time
afterwards during the year. We will be revisiting each module 3 times during the course of the year, approaching it with a different focus each time.
16. The Facebook link didn't work so I could join.
Although Sat Dharam invites everyone in the course to the secret Facebook group by email, Facebook may not recognize your email. In that case perhaps the email linked to your Facebook page is a different email than the one you are using for CI. Contact your CI Facilitator so that he/she/they can invite you to the Facebook page.
17. Do I have to use Facebook?
It is not essential that you join the Facebook group, as we know some of you do not use Facebook. However, it is a useful forum to get to know more people in the program, comment on the modules, and to share insights and experience as we go along.
18. I've been having some problem watching the videos. They won't play or they keep stopping. Is there a way that the teaching videos can be downloaded and watched offline? At the bottom right corner of each of the videos are 3 icons. The middle one, which looks like a little sun, is for settings. When you click that, you can also set "quality". If you choose the lowest number for quality, it will have the fastest streaming time. Because of the personal nature of the interviews in the videos and to protect the privacy of those individuals, the videos are streaming only.
19. Where do I go for technical support?
For Zoom-related questions, visit the Zoom help centre – https://support.zoom.us/hc/en-us/articles/202952568-My-Video-Camera-Isn-t- Working Zoom help centre has lots of options to help! https://support.zoom.us/hc/en-us
For course-content related technical questions not answered by the FAQ in this page, please email [email protected]
20. I need to switch my group time to another day during the week. Who do I contact?
This is only possible during the first 4 weeks of the program. If you need to move to another group please contact Kristen at [email protected]
21. I'm a bit nervous and panicking on getting started.
A bit of stress is expected as this is a lot of material to sort through, especially at the beginning. Notice the stress and don't make it wrong. It's inevitable to feel some of it as you navigate your way in. All will become clear as we go along. Please don't hesitate to ask questions.
22. How should I organize the material?
In each module, there are several pdfs to download and/or print. Store the files in folders on your computer, labelled CI Module 1, CI Module 2 etc. We recommend you also print the materials and keep them in a 3" binder, using 8 dividers to separate the 8 modules.
Navigating the Course:
How do I access the course?
Before the course begins, we send you the link to access the online training platform. Please add this link to your web browser's bookmarks, in order to have easy access.
The link to login to the online training is online.compassionateinquiry.com/login
Please bookmark the page entitled Course Orientation with Sat Dharam, which is in the Intro module. This page is handy to access or return to often, as it contains most of the downloads for your course. Please refer to the next question in order to find this page.
How do I access the Downloads?
Here is how to find the PDFs and downloads for the Intro Module and subsequent modules:
You can also click this link for quick access to the Course Orientation with Sat Dharam page.
When you are on the first page of the learning platform you will see Compassionate Inquiry Professional Online Program. To access Intro content you must:
Click on Introduction: Welcome To The Course
You will see Gabor's video but not the PDFs
Click on Course Orientation with Sat Dharam, which is just beneath Course Introduction with Gabor
You will see the PDFs located on the right hand side of your screen, down below the videos.
Note: This process is the same to access downloads for each module. Downloads are always on the second page of the Intro Section of that module, entitled Orientation with Sat Dharam. Only when you have clicked onto each module's Orientation video with her do you see the PDFs after scrolling down, on the right-hand side.
As you go through the program, it is recommended to download, view and/or print off course materials for reference.
How can I find the powerpoint slides?
The powerpoint slides for each module are located alongside the downloads/PDFs for that module. Please reference the above question for directions. They are called either "Gabor's Teachings Slides" or "Practice Slides".
What needs to be completed for the course and when is it due?

Please refer to the Downloads Section of the Orientation Page in the Introductory Module (Click this link for quick access to the Course Orientation with Sat Dharam page). Specific files which contain some of this information include:
CI Program Structure
Course Completion guidelines
CI Course Outline
All of the above documents are located in the Introductory module pdfs. Further information and instructions will be given prior to your completion of the course, you can also view the image below for further requirements.
CI Requirements for Course Completion
See the chart below for an overview of the requirements for your course completion, and the different options you have: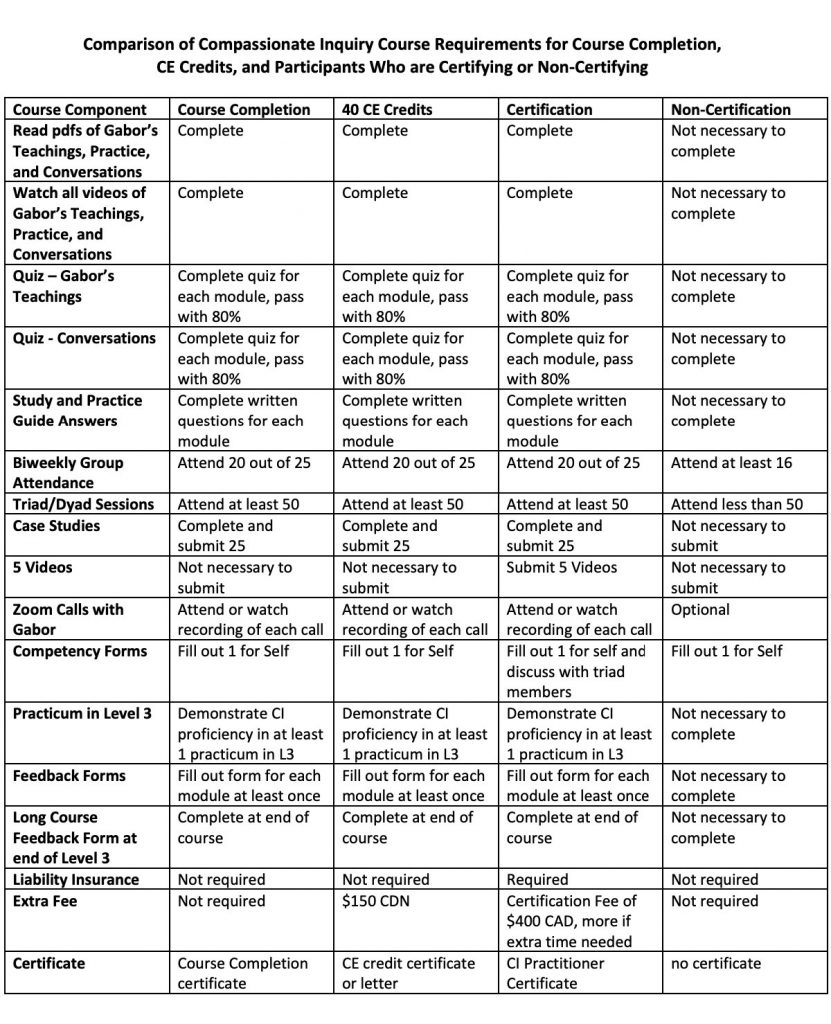 How can I access the Facebook group?

An invitation to the Facebook group will be sent to your email address when the course begins. If the email address you use for Facebook is different from the email address we have, the link will not work. If the email address you use for Facebook is different or you are having trouble with your invitation to the Facebook group, please email [email protected]

I need to reset my password, or I can't log in.
Please use the link online.compassionateinquiry.com/login to log in, and ensure you are not entering any spaces before or after your email address.If you don't remember your password or are having trouble entering it, please send an email to [email protected] and we will send you a link to reset your password. Please do so within a few days of when we send you the link, as this link will expire within a week.
How do I use Zoom? Is it secure?
You will be using Zoom for all meetings with your facilitator, with Gabor and your dyads/triads.
This article from Zoom highlights and gives instructions to enable many security features you can enable in Zoom, and we recommend applying the following, especially important for your Dyads and Triads, if you are the host:
Disable screen sharing so that attendees cannot take over your screen without permission
Lock your meeting after everyone has arrived to prevent unwanted disruptions
Don't publicly post your Zoom link anywhere. Anyone with this link can join your meeting
Make sure the Waiting Room is enabled by default. Waiting Room is an existing feature that allows a host to keep participants in individual virtual waiting rooms before they are admitted to a meeting.
Meeting Registration (Optional) Registration for meetings will allow you to have your participants register with their email, name, and other details before the meeting begins.
What do I practice in my dyad/triads
?
Please refer to the Downloads Section of the Introductory Module for the CI Pod Guidelines, CI Etiquette in Triads, and CI Triad Attendance Sheets.
The dyad/triad practice guides for each module are located in that Module's Downloads Section.

I'm not getting emails (about the Course Content or Modules)
There could be multiple issues happening here. Please review the complete list below for possible solutions, and if you have any questions or need support, email [email protected] and we will do our best to resolve the issue.
Our emails may be sent to your inbox or spam and get lost in the email clutter. If you use Gmail, our emails could show up in your Promotions, or Updates tab.
Please ensure you are subscribed to our email list within the online course platform:

In order to make sure that you receive all email communication from us, please visit this link and ensure that all of these checkboxes are clicked, especially the checkbox "Please email me about new products and promotions". This is necessary to receive any emails from us (we will not send you any promotions unassociated with the course).
First, visit this link: https://online.compassionateinquiry.com/settings/account
You can see the checkboxes below where it says
Full Name _______
Email ______
Time Zone ________


Please add these contacts to your contact list, most importantly the first one:
It is possible that an email was sent to you, but either your server rejected it or it got lost on the way. If this happened, you may have been unsubscribed automatically from our list, due to an email sent to you having bounced. This may be because your server rejects the email we send to you, thinking it is spam.
If this is the case, you will have to email us manually in order to re-subscribe you. Please send an email to [email protected] and we will sort this out.
Course Completion / Certification / Mentorship:
I do not know how to convert my case studies into one document and upload, or I wrote them out by hand.
What are the course completion requirements?
Starting with the Feb 2020 cohort, certification is no longer an initial option after completion of the course. We have migrated to the Mentorship Program.
Each cohort has various requirements for course completion. Here is an image outlining these requirements.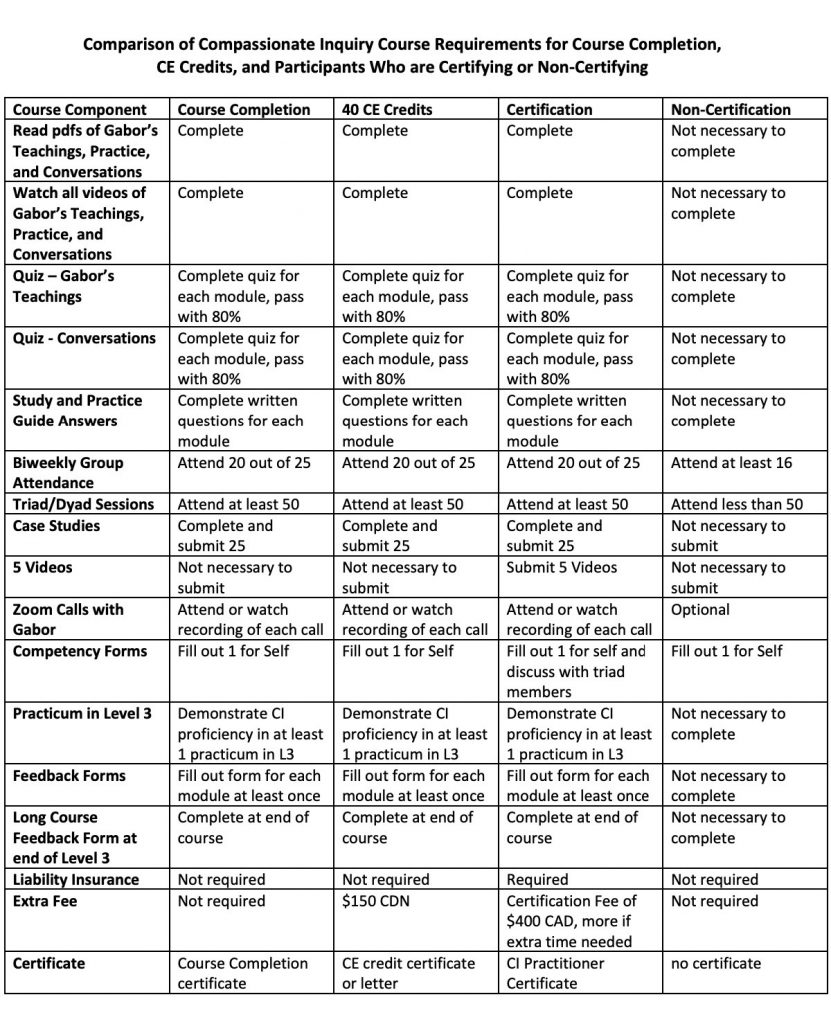 What is the privacy of my Videos and documents?
The information, files, and videos you submit are strictly confidential and will only be seen by the certification team (comprised of the CI Facilitators, sometimes Gabor, and if necessary, the CI Admin Team). Your submission will be reviewed and deleted 60 days after all certification requirements have been received, or within 8 months after the final week of your training.
Options:
Upload directly through the form (most secure)
Upload to an online service such as Dropbox, Youtube, Vimeo, and copy/paste the links to videos into the form
We recommend you upload videos through the form directly, but if you are having problems there is another option, where you can upload to an online service and share the links in the certification form. If you do this, please be aware of the privacy of your videos, and that you are responsible for ensuring this privacy. There are many online services you can use, however here are three:
Youtube – Unlisted video setting. It offers private video uploads (but not password-protected), however for our purposes Unlisted is the best option. Youtube offers free unlimited video uploading. For information on how to make private Youtube videos, see here.
Dropbox, Google Drive, Microsoft OneDrive etc. If you have one of these services and enough storage space, you can upload videos to a folder in your account and create links to share in the certification form.
Vimeo – Password-protected private video uploads. The free plan only offers 500mb of uploads per week, so in order to upload all five videos you will likely need to upgrade to Vimeo Plus – $9/month. You can delete your subscription after two months or so, after the videos have been reviewed and when you remove the videos from the platform. For information on Vimeo video Privacy, see here.
What insurance companies cover CI?