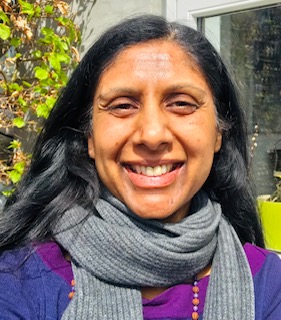 Lakshmih Moon
I've been working with and creating a healing space for clients to heal from childhood trauma, and sexual wounds and trauma, for almost twenty years. 
I meet people who experience anxiety, depression, grief and/or loneliness in some way or other. I'm touched by the great longing I meet in more people who wish to use their voice to speak up authentically, be guided by their own truth and intuition.
I'm both a CI practitioner and a psycho-spiritual therapist with a somatic focus on unraveling what is happening in your body; guiding you to notice what you are feeling, what you are needing and what you are believing about yourself.
I'm of Indian descent, grew up in the UK and have lived in Denmark since 1996. My own healing journey has taken me deep into uncovering just how much I had suppressed as a child and the generations of trauma I had absorbed.
Addiction, Adoption, Anxiety, Behavioural Issues, BIPOC (Black, Indigenous, People of Colour), Couples, Depression, Divorce, Grief and loss, Infertility, Life Coaching, LGBTQI2+, Self-esteem, Sexual Abuse, Stress, Transgender, Trauma and PTSD, Women's health

Advanced healing practices ICF Certified Professional Coach
Contact this Practitioner