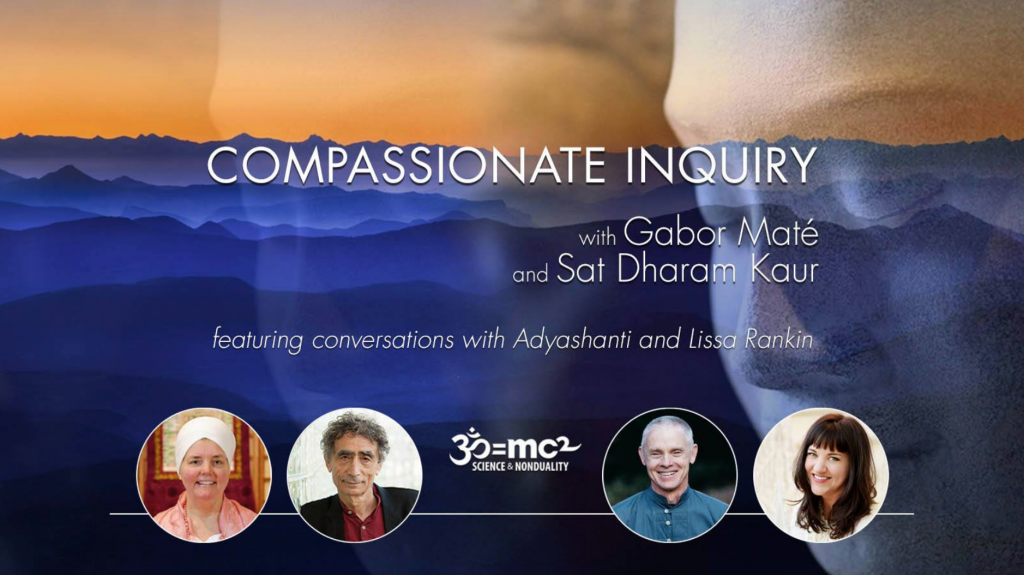 Spiritual practices can help soften shame, confusion, anger, and pain. We often seek the release of meditation, yoga, or chanting and they can soothe the discomfort of fear or self-judgment. But many people get lost in what can be called Spiritual Bypass—when our spiritual identity, beliefs, or practice become a defence to avoid honestly experiencing and processing deep emotional suffering.
This 5-day intensive workshop with renowned author Gabor Maté, MD, expert Kundalini Yoga teacher Sat Dharam Kaur, ND, and guest speakers Adyashanti and master coach Lissa Rankin, MD, combines unique therapeutic work, Compassionate Inquiry, and enhanced yoga to explore emotional realities that many spiritual practices often ignore.

You will learn:
Skillful, curiosity-driven, nonjudgmental witnessing of body sensations and emotions
Meditations and breathing for calm and stability
Kundalini Yoga for expressing repressed emotional states
Cultivation of self-acceptance and self-compassion
Compassionate Inquiry to reveal implicit memory and traumatic or unconscious feelings
Patience, respect, and the importance of choice in any therapeutic process.
Spiritual Bypassing:
Many of us seek spirituality to alleviate pain and suffering. The internal discomfort of anger, sadness, fear, shame, or self-loathing is soothed by pleasant or blissful experiences encountered through meditation, yoga, chanting, prayer and connecting in community. Spiritual bypass occurs when we use our spiritual beliefs, practices, community and way of life to avoid experiencing, revealing and processing emotional pain.
Don't allow Spiritual Bypass to cause a split to form between your authentic internal experience and a facade you present to the world, leaving wounds unhealed. It's a serious pitfall for all spiritual practitioners, new or experienced. Instead, cultivate sensitivity and understanding to reveal any underlying unconscious beliefs like "I'm not good enough," "I'm not loveable," or "I'm wrong," and resolve them.
Who Can Benefit
In this workshop, which will be hosted by Maurizio Benazzo and Zaya Benazzo (SAND), explore true practice probing the origin and surrounding beliefs of pain and repressed emotion in a safe and supportive setting. Participate in real witnessing, non-judgement, and expression, the ingredients of resolution.
This in-depth program is suitable for therapists, spiritual seekers, and anyone looking for a profound understanding of their personal issues.
Event Information
Dates: March 3-8, 2019
Location: 1440 Multiversity, 800 Bethany Drive, Scotts Valley, CA 95066.   Phone: 1-844-544-1440
Beautifully nestled in the California redwoods near Santa Cruz, our 75-acre campus is within easy reach of San Francisco and Silicon Valley.
1440 Multiversity is a place to spend time engaging some of life's most meaningful personal questions and to enjoy, restore, and reenergize yourself as you do it.
You'll find new energy through immersion learning—setting aside daily urgencies and dedicating uninterrupted time to focus on important, but often elusive, priorities. Our unique collaboration with world-class faculty coupled with an original, inspirational curriculum and magnificent grounds make this a place like no other. Add in fresh, redwood-scented air, delicious and healthy food, deep reflection, fun exercise, and good sleep and you've pretty much captured what you'll experience here.
For the daily schedule and start and end times, see   Daily Schedule 
Fees & Registration
$625 Tuition
Plus 5 nights all-inclusive accommodations priced separately