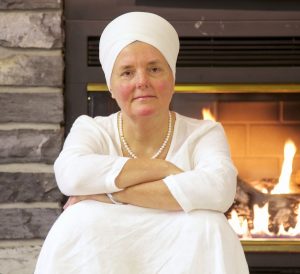 Sat Dharam Kaur
Private Mentor, ND
As a Compassionate Inquiry Mentor, I will be working with you to help you achieve your personal and professional goals and competencies related to Compassionate Inquiry. I would like to share some of my professional background with you. I have been practicing full-time as a naturopathic doctor since 1989, with a focus on women's health, cancer and mind-body approaches to healing. Since 2019, much of my naturopathic practice has included Compassionate Inquiry.
I have been studying, hosting, working and teaching with Dr. Gabor Maté since 2012, and have devoted myself to the task of structuring his work in a format that could be taught to others, as well as to become adept at it myself. I have worked closely alongside Gabor since 2018, specifically developing the Compassionate Inquiry training. I have completed a Basics in Clinical Supervision Training online with Dr. Jeff Chang to prepare myself to mentor others using best practices.
My educational background includes a BA with a major in psychology and English literature, and a B.Sc. in biology from the University of Guelph, Ontario, Canada. I completed postgraduate studies in naturopathic medicine at the Canadian College of Naturopathic Medicine in Toronto. I taught stress management and women's health at the Canadian College of Naturopathic Medicine for 10 years. I also completed a diploma in fine art from the Ontario College of Art and Design, with a focus on drawing, painting and sculpture. I've written three books on women's health and have presented at numerous conferences.
My other passion has been Kundalini Yoga, which I have practiced and taught for over 40 years. I have been training and mentoring Kundalini Yoga teachers for 20 years, and teach internationally. I've developed yoga-based curriculums in addiction recovery and breast health and train teachers in those specialties. I have a daily yoga and meditation practice that sustains me.
I live with my husband in an off-grid home on 105 acres of beautiful land and take care of fruit trees and a large garden. I enjoy hiking, cycling, and communing with plants. I have three adult children and one grandchild.
See their practitioner bio here.
Email: [email protected]
Phone: +1-519-372-9212
Location: Owen Sound, ON, Canada