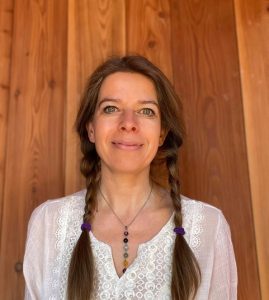 Monika Guillemin Weiglová
Psychologist, Private Mentor
My intention as a Compassionate Inquiry mentor is to help you uncover the unconscious drivers and access your inner wisdom by focusing on the present moment. As I learnt a lot on my way of being psychologist for almost two decades and years in compassionate inquiry training, I love to share with you my knowledge and understanding of the modality.
I am honoured to provide a safe, non-judgemental space and my full presence for you to be able to explore your intention and discuss what you need as a therapist. What might be possibly on the way for you to be a clear mirror for your clients. Because I believe that deepening our self awareness helps us become that clear mirror so clients' essence can then appear and they can be led by it.
I am a psychologist, certified kundalini yoga teacher and enjoying incorporating art, imaginations and body work in my practice with clients. Besides being a certified Compassionate Inquiry practitioner I am as well trained in psychotherapy based on Jungian analytical psychology (Guided Affective Imagery). Currently, I am in final stages to be certified as a trauma-informed art therapist.
In my private practice I am offering programs about conscious parenting and emotional development. Via zoom, I lead a group or individual therapies. I am looking forward to working with you and supporting you in your journey. Compassionate inquiry feels for me like a home approach and I enjoy in general connecting ancient wisdom with the modern neuroscience perspectives to restore balance and become whole again.
I will do all my best to support you in enjoying this journey too.
Email: [email protected]